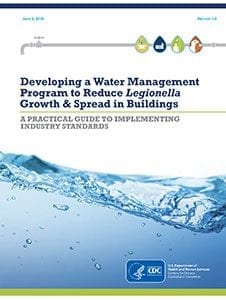 The Centers for Disease Control and Prevention (CDC) report in early June about the increased number of Legionnaires' disease cases and the need for building water management certainly caught the attention of the media.
The Washington Post headline was "Legionnaires' outbreaks: Cases nearly quadrupled in 15 years."
The Wall Street Journal highlighted CDC Director Tom Frieden's quote, "Almost all Legionnaires' disease outbreaks are preventable with improvements in water systems management."
USA Today also focused on water management as the key to prevention: "Most outbreaks can be prevented through better water management, according to the CDC report."
And so did MRC TV, with stronger language: "CDC: Legionnaires' Cases Quadruple; 9 in 10 From Shoddy Water Management."
It was no accident that the CDC report was released on or about the same day it issued the final version of its toolkit, "Developing a Water Management Program to Reduce Legionella Growth & Spread in Buildings: A Practical Guide to Implementing Industry Standards."
No one can accuse the CDC of releasing the report to make money on its toolkit because the document is available free of charge (CDC's WMP Tool Kit). Apparently, the CDC simply wanted to bring attention to the need for better building water management to minimize the risk of disease, and let facility operators know the toolkit can be of help to them in establishing a water management plan (WMP) that satisfies ASHRAE Standard 188.
What may not be so obvious at first glance is the toolkit's potential impact—legally—on facilities that do not establish a WMP, for at least four reasons:
1. Facilities sued over cases of Legionnaires' disease allegedly associated with their building water systems can no longer claim the CDC has no clear recommendation for implementing a WMP.
"You should develop a water management program to reduce Legionella growth and spread that is specific to your building."
2. The CDC is clear that water management plans are needed to satisfy the standard of care, specifically citing ASHRAE 188:
"Legionella water management programs are now an industry standard for large buildings in the United States (ASHRAE 188: Legionellosis: Risk Management for Building Water Systems on June 26, 2015. ASHRAE: Atlanta)."
3. The CDC confirmed its view that implementing a WMP reduces the risk of Legionnaires' disease:
"This toolkit will help you develop and implement a water management program to reduce your building's risk for growing and spreading Legionella."
4. Although the CDC did not fully recommend testing water systems for Legionella, a defendant no longer has grounds to (falsely) accuse the CDC of recommending against testing:
"Environmental testing for Legionella is useful to validate the effectiveness of control measures."
In the long run, neither ASHRAE Standard 188 or the CDC toolkit will likely increase the number of Legionnaires'-related lawsuits because Legionnaires' disease should decrease as Legionella control measures are implemented by more building operators. But, for the lawsuits that are filed, the documents will almost certainly impact litigation, particularly regarding the water management standard to which building operators are held.
Just food for thought—not legal advice.
What do you think will be the impact of the new toolkit? Please leave a comment below.