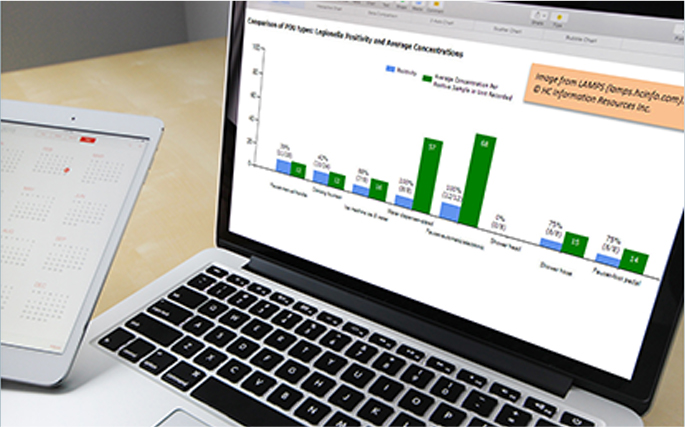 LAMPS Analytics
Get Access for 12 Months
$1,297 for one site (up to 7 users)
Discounts for 5 or more sites
Data entry forms, analytics, and reports for Legionella, Disinfectant, and Temperature Data
Includes Training Bundle
Expose root problems; determine best solutions
LAMPS Analytics Helps You Make Better Decisions, Easily

Expose Root Problems Faster -- and Save Money Solving Them
Most hospitals, nursing homes, hotels, and other facilities that test for Legionella make poor use of the results…
Some do too little, missing opportunities to prevent disease.
Others waste money on unnecessary, temporary, or totally ineffective measures.
And many just retest, hoping the results will get better.
To manage water systems well — without overspending — Legionella results must be evaluated comprehensively, along with temperature and disinfectant data.
The robust analytics in LAMPS can expose root problems and best solutions.

LAMPS Analytics is Easy to Use
Easily review 20+ data sets for Legionella, disinfectant, and temperature data — in both summary tables and colorful graphs — before making important and potentially costly decisions about building water system management.
Compare buildings and systems.
Look at trends over selected date ranges to check your progress.
Impress your bosses with fancy performance graphs! (LAMPS Analytics makes you look smarter.)
Check LAMPS articles on Legionella remediation before making major expenditures.
LAMPS Analytics is included in WMPs — or can be purchased separately.
Our Sampling Partners Can Help You

We recommend you hire one of our Sampling Partners to set up LAMPS Analytics for your facility.
You could set it up on your own, but our experienced partners can save you time. After the initial set-up, you can use LAMPS Analytics on your own, entering data and interpreting results. Data entry in LAMPS is intuitive and quick.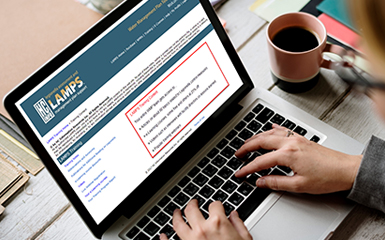 Best for: Health Departments and Professional Societies.
Includes: Online training articles and videos, live webinars, and e-Learning training courses.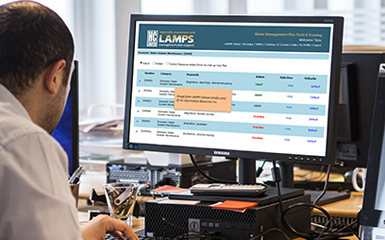 Best for: Facilities that need a WMP, companies providing WMP set-up services.
Includes: Training and Analytics bundles plus water management plan (WMP) content and tools.
What Our Users Are Saying
"Exactly what is needed. I will sure be recommending that industrial hygienists, water treaters and others getting into sampling for Legionella join your LAMPS program and take the courses!!"

Diane Miskowski
MPH, Legionella Subject Matter Expert, EMSL Analytical, Inc.

Diane Miskowski
MPH, Legionella Subject Matter Expert, EMSL Analytical, Inc.
"The LAMPS software was a godsend for us."


"We have found the WMPs developed by HC Info to meet all the requirements of both the insured and the insurance company. The plans are cost competitive, comprehensive, and meet the regulatory as well as the user requirements."

Russel Nassof
Esq., Attorney, Executive Vice President, RiskNomics

Russel Nassof
Esq., Attorney, Executive Vice President, RiskNomics