LAMPS Product Bundles
Select the LAMPS bundle best for your organization type and needs, then add any additional e-Learning courses that will help you in your job. E-Learning courses are also available à la carte, without a bundle. See pricing.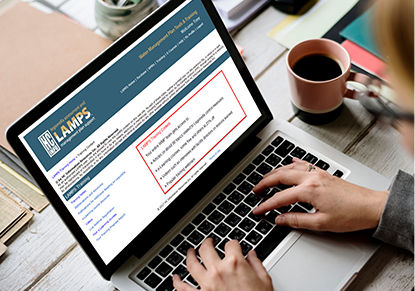 Training Bundle
Best for health departments and professional societies. Quick answers on 90+ Legionella topics. Training videos. E-Learning Courses 321, 322, 323, 327, and 501 at no charge and Courses 101-104, 301, and 401-404 at 25% off (a value of $730+ pp). Access to LAMPS-only training webinars.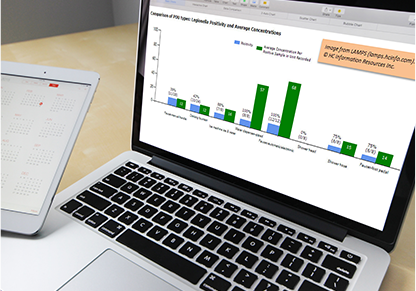 Analytics Bundle
Best for facilities that have a WMP but no access to LAMPS, and for companies offering sampling services. Includes everything in the Training bundle plus LAMPS Analytics for Legionella, disinfectant, and temperature data. Easy data entry forms, robust analysis, and graphical reports–for smarter remediation.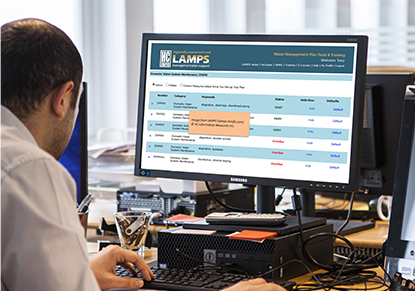 WMP Bundle
Best for facilities that need a WMP, and for companies providing WMP set-up services. Includes everything in the Training and Analytics bundles plus water management plan (WMP) content and tools: editable policies and procedures and tools for easy documentation, updating, verification, and reporting.

What Our Users Are Saying
"Course [101-104] should be a requirement for anyone trying to prevent or eradicate Legionella from building water systems"

"Recommending that industrial hygienists, water treaters and others getting into sampling for Legionella join LAMPS"

Diane Miskowski
MPH, Legionella Subject Matter Expert, EMSL Analytical, Inc.
"Water Temperatures and Legionella in Plumbing Systems' is a must-view for facility managers"