Cloud-Based Water Management Programs
Water management plans, analytics, and training to help you effectively reduce risk and comply with ASHRAE Standard 188, CMS, and other Legionella prevention regulations.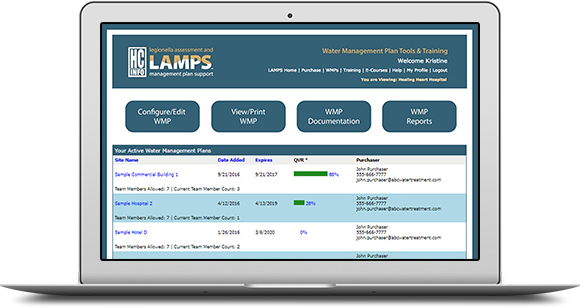 Request a Demo
We'll walk you through our easy-to-use platform and help you determine the best program for your needs.
Why Having LAMPS is Critical
Our cloud-based water management program (WMP) application, LAMPS, makes it easy and economical to:
Protect your people from pathogens like Legionella
Comply with CMS
Comply with ASHRAE Standard 188
Comply with New York Legionella testing requirements
Reduce your legal risk
Guard your brand

Facilities
Hospital and long-term care facilities, apartment and condo buildings, hotels and resorts, industrial facilities, office and commercial buildings, and schools/universities
Health Departments
Environmental health specialists, epidemiologists, inspectors, microbiologists, and engineers

Service Providers
Industrial hygiene firms, engineering firms, consulting firms, and water treatment companies
Our Products
Get started with access for 12 months for up to 7 users.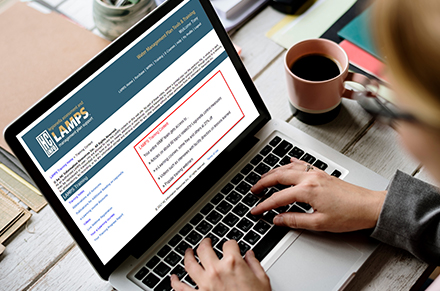 Water Management Training
Get answers fast. Browse short water treatment training articles explaining Legionella control measures. Watch videos. Take e-Learning courses to earn certificates and enhance your credentials.
$797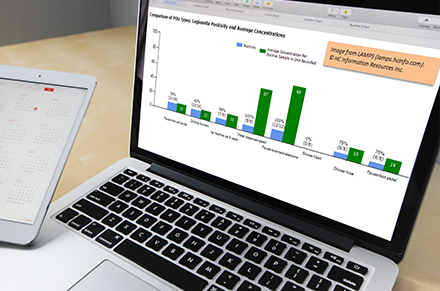 Water Management Analytics
(Includes Training)
Make smarter water management decisions quicker. Receive robust analytics with summary tables and graphical reports for Legionella testing, disinfectant, and temperature results.
$1,297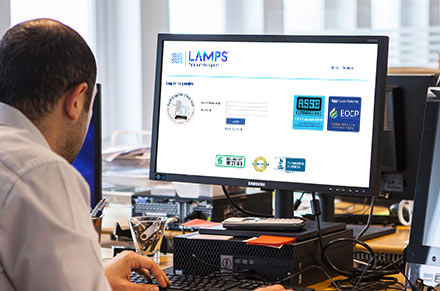 Water Management Plans
(Includes Training & Analytics)
Receive comprehensive, defensible, and editable policies and procedures in the ASHRAE Standard 188 framework, written by unbiased experts. Save time with easy tools for updating, documenting, and reporting.
$1,497
To learn more about our products, request a FREE demo today!
Or, call us today at  (206) 336-7339
How We're Different
Our training content and water management programs are used by thousands of professionals, including some of the top water experts in the world, to prevent and solve Legionella problems in thousands of buildings.

Expertise & Credibility
20 Years of Experience
For more than 20 years, facility operators, health officials, water treatment specialists, risk managers, and safety consultants have relied on HC Info for education, training, and consulting that's recognized by outside sources.

Economical
High Quality & Affordable
We provide high quality water treatment training and Legionella management plans at low prices because we have invested heavily in software and automation.

Evidence-Based & Unbiased
Backed by Science
We keep up-to-date with studies and apply the findings without bias. Because we don't sell chemicals, equipment, or laboratory services, LAMPS content is unbiased.

Making Water Management Easy
Intuitive Tools & Resources
LAMPS includes tools that make it easier to carry out the plan—tools for easy editing, updating, training, documenting, and reporting. Easily manage user access and maintain consistency across multiple properties.

Private & Secure
Keeping Your Data Safe
Government entities, corporations with valuable brands, and large institutions trust LAMPS with their data. LAMPS resides on a Microsoft Azure Government cloud-hosted, FedRAMP-compliant server and has multiple security features.
We're here to help you reduce the risk of Legionella in your facility. Contact us today for a walkthrough of LAMPS!
Or, call us today at  (206) 336-7339
What Our Customers Are Saying

An incredibly valuable resource!
"LAMPS is an incredibly valuable resource for all of our healthcare facilities. The platform is easy to learn and use and allows teams to organize all pertinent information in one centralized place. The training materials are in depth, helpful, and easy to find and the LAMPS customer service is exemplary – I always receive an immediate, friendly, and helpful response to questions or issues. LAMPS is a program that I highly recommend to all similar facilities!"
— Heather Wilson, Senior Operations Analyst at CBRE Healthcare

Cost competitive, comprehensive & meet requirements
"We have found the WMPs developed by HC Info to meet all the requirements of both the insured and the insurance company. The plans are cost competitive, comprehensive, and meet the regulatory as well as the user requirements."
— Russel Nassof, Esq., Attorney, Executive Vice President at RiskNomics

I will sure be recommending your LAMPS program!
"Exactly what is needed. I will sure be recommending that industrial hygienists, water treaters and others getting into sampling for Legionella join your LAMPS program and take the courses!!"
— Diane Miskowski, MPH, Legionella Subject Matter Expert at EMSL Analytical, Inc.
About HC Info
We're dedicated to helping our customers reduce Legionella risk and stay compliant. That's why we've created LAMPS.
Our Background
LAMPS is the culmination of 20-plus years of experience using scientific evidence to consult and train hospitals, manufacturing plants, commercial buildings, and other facilities to prevent and solve Legionella problems.
LAMPS was created because we saw a need for users to gain access to a centralized platform that contained all of the water treatment training, analytics, and water management plan content needed for a successful Legionella testing and water management program.
The Success of LAMPS
Upon its release in January 2016, the number of LAMPS users grew rapidly. Thousands of professionals have now used LAMPS for water management plans and have gone through the LAMPS training courses to increase their knowledge and enhance their credentials.
Having so many LAMPS users–including our network of WMP Partners covering the US, Canada, and several other countries–provides built-in peer review. We continuously improve the LAMPS content and functionality based on user feedback.
Request a demo today to see how we can help you keep your water safe, reduce the risk of Legionnaires, and comply with safety regulations.
Or, call us today at  (206) 336-7339