LAMPS WMP Platform Features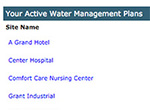 Smart Portfolio Management
In one screen, you can see all your property WMPs and click to go to any one of them. Give regional directors access to the properties they manage and building managers access to the one where they work. Use the updating features to keep maintenance and other procedures consistent for all your properties and water systems.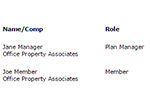 Flexible User Management
For each WMP, give "Plan Manager" configuration permission only to those authorized to change water system information and control measures and "Team Member" permission to those who will view but not change the WMP. Only the "Purchaser" has authority to activate WMPs you've purchased.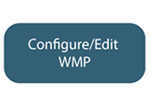 Easy Editing and Updating
You edit the WMP as you wish—maintenance measures, schedules, administrative text, etc. If you want to go back to our default text, or see what we've updated since you last saved your plan, you can. With the click of a button, you can also see control measures we've added since you set up your plan and activate the ones you want to implement.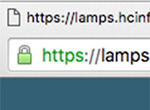 State-of-the-art Security
We implement security and back-up features that satisfy even our most demanding governmental and institutional customers.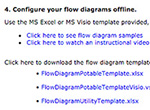 Configuration Tools
LAMPS makes it easy to configure an effective, thorough, and credible WMP with only a basic understanding of your building's water systems. We provide flow diagram samples and templates, instructional videos, clickable tips, a survey form for gathering information, and training notes. Just follow the step-by-step instructions.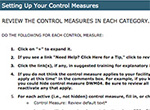 Done-for-you Hazard Analysis and Control Measures
You do not need to be a Legionella expert to use the WMP. We do the heavy lifting, providing a hazard analysis and recommended control measures based on the water system and facility information you enter. You can edit our default recommendations or use them as is. You can also add your own.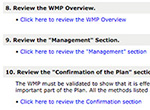 Content per ANSI/ASHRAE Standard 188-2015
The WMP includes an overview, management strategy, validation procedures, steps for responding to Legionnaires' disease, water system information, hazard analysis, and control measures. You can edit the text or use it as is.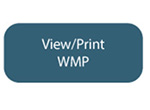 Easy Viewing and Printing
Viewing your WMP in the Platform is easy and fast. Navigate to any section with a click. Add (optionally) a page with your branding. Generate a handsome, printable PDF.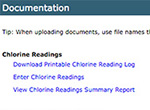 Time-Saving Documentation Tools
Customers have told us the LAMPS documentation tools alone justify the annual fee. They save you time and make your job easier. Downloadable logs are provided for cooling tower inspections and much more. Upload your completed logs, vendor reports, and lab reports so they're easy to find and accessible with a click.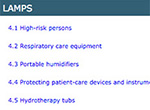 Built-In Training Notes and Videos
Your WMP will be effective only if you implement it well. The LAMPS videos, training notes, online course discounts, clickable tips help your team be successful. Click to 90+ Legionella topics. Participate in free live webinars for continuing education and awareness. Watch free videos on Legionella control measures.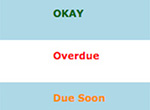 Quick Reports for Control Measure Status and Scheduling
To make scheduling easier, click a button to show control measures by frequency: daily, weekly, monthly, quarterly, yearly. Use the status report to show control measures that are "okay" (green), "due soon," (yellow), or "overdue" (red).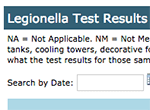 Databases for Logging and Interpreting Test Results
Enter your Legionella test results, chlorine readings, and temperature measurements into LAMPS. View results over date ranges. Generate summary reports that help you interpret the results, make better decisions, and solve problems quickly and less expensively.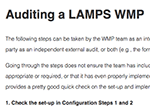 Auditing and Regulatory Reporting Tools
Go through our WMP auditing steps to check your progress. Download forms to help you report WMP documentation in New York City and New York State. Upload your current compliance documents so you can quickly "put your hands on them" when requested by health officials, your boss, or other authorities.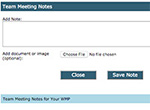 Team Meeting Notes Section
Document your team meeting notes to maintain good communication and keep track of your progress, decisions, and to-do list.
As an attorney and consultant to the insurance industry on water management programs and underwriting the risk of Legionella, we have found the WMPs developed by HC Info to meet all the requirements of both the insured and the insurance company. The plans are cost competitive, comprehensive, and meet the regulatory as well as the user requirements.
Russell Nassof
"Due to a recent property assignment acquisition and facing newly enacted state requirements, we were left with very a limited time-frame to complete a cooling tower water management plan. I am grateful to have discovered HC Info, and thankful to our contractor for having recommended it. The [LAMPS WMP Platform] site made plan development simple and efficient. There were no complications along the way."
Kevin Ullrich, LEED Green Associate
"Completed the WMP, went very well. Found it very user friendly and easy to navigate. Definitely would recommend it. The class was also very helpful."
Bill Tighe
"Our facility worked with HC Info to create a water management plan that was evidence based, credible, and cost effective. The process was extremely efficient, easy to complete, and the HC Info team was incredibly easy to work with and available to address any questions or concerns."
Katie Cary MPH, MT (ASCP), CIC